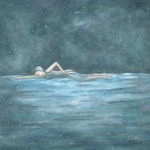 Lynne Cox has spent her life swimming vast distances and pushing herself to the edges of possibility. Since the beginning, she has thrived on exploring uncharted territories, including the ocean at night.
Subscribe: Apple Podcasts | Android | Stitcher | RSS | More
---
To a Distant Continent Credits
Produced, edited and mixed by Vanessa Lowe.
Thank you to Lynne Cox. Find out more about her and her work here.
Special thanks to Heidi Anderson, Neva Moore, Jemma, Artorias Stark, David Green, Rexter Chambers, David Fisher, Hugo Arenivas, Joseph Potter, Robert Shaw, Mary Jo Eyler, Leslie-Ann Case, Sleep with Me Podcast, and Camilla Meshiea.
Music
Nocturne theme music by Kent Sparling
Also by Kent Sparling:
Plate Radio, Smoke Leaks Through the Wall, Light Captains, Needle Lies, Explore, Unreleased
Spiral, Under New Manna
Resophonic, Unreleased
Ambient Drone, Dark Sun, C Maj Drone , Unreleased
Episode Artwork: Robin Galante