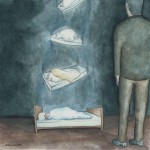 Sometimes the world of our dreams can be unsettling; even terrifying. The fear can be like an echo or a shadow of true emotion; or it can be utterly real, even justified. At times the fearful experiences we have at night can introduce questions into the nature of reality, itself. Many explanations have been offered for some of the most terrifying intrusions into sleep, but questions are not always answered, phenomena are left unexplained, there is no resolution.
Subscribe: Apple Podcasts | Android | Stitcher | RSS | More
---
Standing Over the Bed Credits
Produced, edited and mixed by Vanessa Lowe.
Thank you to JD Boucharde for sharing his story.
Find out more about sleep paralysis and other sleep disorders here, here, and here.
Thanks to Rob McGinley Myers for editorial help.
Special thanks to Heidi Anderson, Neva Moore, Jemma, Artorias Stark, David Green, Rexter Chambers, David Fisher, Hugo Arenivas, Joseph Potter, Robert Shaw, Mary Jo Eyler, Leslie-Ann Case, Sleep with Me Podcast, and Camilla Meshiea, Marta Pelrine-Bacon, Kay Challis, Tara, Doug Salamon.
Thanks to Audible for their support. Audible.com/Nocturne
Music
Nocturne theme music by Kent Sparling
Also by Kent Sparling:
The Vicar; Mountain Heart, Unreleased
Good Posture, Route Canal Diary
Up a Flight of Iron Stairs, Our Lady of Situations
Dock Party, Unrleased
Jeffrey Foster and Kent Sparling:
Johnny Bear; Nine Mile, Unreleased
Who Are You?; Outisde; Picture; Night; Leavings, Leavings
Car Light, Star Bright, Selective Sync Conflict
Kyron (aka JC Mendizabal) and Radio Free Clear Light:
Aboard the Ship Karnak, The Dark Gate, Graeae
Episode Artwork: Robin Galante