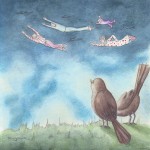 Our dreams can allow us to experience things that are – impossible. Yeah, some dreams take us where we'd rather not go. But others invite us into a world filled with joy, and ease, and wonder. They connect us to a forgotten part of ourselves. It feels realer than real, this realm we can only inhabit when we're sleeping.
Subscribe: Apple Podcasts | Android | Stitcher | RSS | More
---
I Was Flying Credits
Produced, edited and mixed by Vanessa Lowe.
Thanks to the Flyers: Kyra Xavia, Jane Maupin Bynon, Jakob Lewis, Lisa Pezzulich, Dana Albert, Robin Galante, Rosalie Wodecki, Maurice Tani, Walker Brents, Finn Sparlowe, Winnie Dunn, and Stephanie Rubin.
Special thanks to Heidi Anderson, Neva Moore, Jemma, Artorias Stark, David Green, Rexter Chambers, David Fisher, Hugo Arenivas, Joseph Potter, Robert Shaw, Mary Jo Eyler, Leslie-Ann Case, Sleep with Me Podcast, and Camilla Meshiea, Marta Pelrine-Bacon, Kay Challis, Tara, Doug Salamon, Edward Champion.
Music
Nocturne theme music by Kent Sparling
Also by Kent Sparling:
Dawn Chorus, Unreleased
White Cloud Radio, Under New Manna
Gulls, Unrleased
Kyron (aka JC Mendizabal) :
Tyranni; Turtle on the Edge; Experiment 05 Rendered
Episode Artwork: Robin Galante