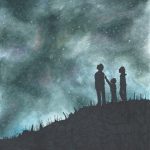 The stars are always there in the sky, even when we can't see them. Why should we look? Why should we care? Paul Salazar cares, and he has compelling reasons why you should, too.
Subscribe: Apple Podcasts | Android | Stitcher | RSS | More
---
Look Up! Credits
Produced, edited and mixed by Vanessa Lowe.
Thanks to Paul Salazar. Here's his blog, The Urban Astronomer.
Special thanks to Heidi Anderson, Neva Moore, Jemma, Artorias Stark, David Green, Rexter Chambers, David Fisher, Hugo Arenivas, Joseph Potter, Robert Shaw, Mary Jo Eyler, Leslie-Ann Case, Sleep with Me Podcast, and Camilla Meshiea, Marta Pelrine-Bacon, Kay Challis, Tara, Doug Salamon, Edward Champion.
Music
Nocturne theme music by Kent Sparling
Also by Kent Sparling:
Be Quietly Different; Smoke Leaks Through the Wall; National Gallery; Latimer's Angel; What's This Called; Monastery Springs; Delos Version, Unreleased
Open Top; Ion Surfer, Unrleased
Kyron (aka JC Mendizabal) :
Subsequent Forms; Placating the Spirits
Episode Artwork: Robin Galante