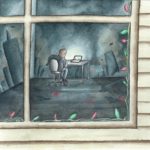 Jade Walker hates the daylight so much that most of her neighbors have rarely seen her. The sun is a personal affront to her. But she's not disconnected from life. In fact, she sees it all. And because of her, so do we.
Subscribe: Apple Podcasts | Android | Stitcher | RSS | More
---
The Vampire Beat Credits
Produced, edited and mixed by Vanessa Lowe.
Thanks to Jade Walker for her stories. Find her blog, Midnight Musings, and other info here.
Special thanks to Katie Burkart, Herrin Hopper,Heidi Anderson, Neva Moore, Jemma, Artorias Stark, David Green, Rexter Chambers, David Fisher, Hugo Arenivas, Joseph Potter, Robert Shaw, Mary Jo Eyler, Leslie-Ann Case, Camilla Meshiea, Marta Pelrine-Bacon, Kay Challis, Tara, Doug Salamon, Edward Champion.
Thanks to Il Morso for supporting Nocturne. Find their bite-sized organic coffee bites at IlMorso.com
Music
Nocturne theme music by Kent Sparling
Fog Deck; Lift; Swimming,  Our Lady of Situations
Kyron (aka JC Mendizabal) :
Doce Meses Al Sol; Experiment05 Rendered; Cimerian; Bouncy Bounce Chorus; Training the Dog; Always; Placating the Spirits
In the Shelter of a Dream, Vol. 1
Blue in Green, Expansions on Solo Piano
Migraine, Selective Sync Conflict
Neon Cowboy, Neon Cowboy
Talk to Astro; He Just Felt Different
Episode Artwork: Robin Galante