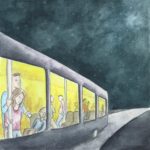 The night bus rolls through the city like a small enclosed world. You never know who you'll meet or what you'll see. One night, Helen Zaltzman's bus ride home from the movies took a dark turn.
Subscribe: Apple Podcasts | Android | Stitcher | RSS | More
---
A Luminous Bubble Credits
Produced, edited and mixed by Vanessa Lowe.
Thanks to Helen Zaltzman. Check out her highly entertaining podcasts, The Allusionist and Answer Me This.
Special thanks to Katie Burkart, Herrin Hopper,Heidi Anderson, Neva Moore, Jemma, Artorias Stark, David Green, Rexter Chambers, David Fisher, Hugo Arenivas, Joseph Potter, Robert Shaw, Mary Jo Eyler, Leslie-Ann Case, Camilla Meshiea, Marta Pelrine-Bacon, Kay Challis, Tara, Doug Salamon, Edward Champion.
Music
Nocturne theme music by Kent Sparling
Also by Kent Sparling:
Air Stars, Leaf Spring
Noh Blues; Come Out; Mississippi Fred, Past Present Future
A Schott in the Dark; Goodbye Day; Graveyard Moan; Blood Red Blues; See That My Grave is Kept Clean, Past Present Future 2
Quiet Horizon; Lift,  Our Lady of Situations
Sample and Hold; Stepping By Rock, Unreleased
Kyron (aka JC Mendizabal) :
Dance
Picturne; Mine; In the Forest, Leavings
Episode Artwork: Robin Galante