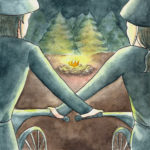 The ethos of randonneuring emphasizes personal challenge and comraderie. Randonneurs share the goal of having everyone make it to the finish line. They take care of each other, because what they're doing is kind of crazy and a little dangerous.
Subscribe: Apple Podcasts | Android | Stitcher | RSS | More
---
The Kindness of Others Credits
Produced, edited and mixed by Vanessa Lowe.
Special thanks to Jeremy Cherfas, Michael, Katie Burkart, Herrin Hopper,Heidi Anderson, Neva Moore, Jemma, Artorias Stark, David Green, Rexter Chambers, David Fisher, Hugo Arenivas, Joseph Potter, Robert Shaw, Mary Jo Eyler, Leslie-Ann Case, Camilla Meshiea, Marta Pelrine-Bacon, Kay Challis, Tara, Doug Salamon, Edward Champion.
Music
Nocturne theme music by Kent Sparling
Also by Kent Sparling:
Over the Falls; Monastery Springs; Frenetic Cluster, Unreleased
Kyron (aka JC Mendizabal):
The Ritual and the Object
Crosshatching; Nine Mile, Unreleased
Tulum
Tiny's Revenge, Selective Sync Conflict
Clear Your Head; Killingsworth Drop
Hover, Ironic Universe
Unreleased
Paris Ballade; Sad French Accordion
Episode Artwork: Robin Galante