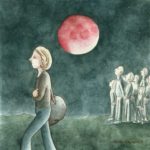 In September 2015 the full moon crossed into the Earth's shadow and turned redish gold. It was the first blood moon, or total lunar eclipse of a super moon, in over 30 years, and it wouldn't happen again for almost twenty more. The moon was old and strange, and we were seeing it in a form that occurs only very rarely. It was something we had to show up for, because it wasn't available on demand. We had to come out of our homes and out of our routines.Also, the moon that night made us look up, away from ourselves and our immediate concerns. It reminded us of the real scale of things, at least for a little while.
Subscribe: Apple Podcasts | Android | Stitcher | RSS | More
---
Moon Shadow Credits
Nocturne is produced by Vanessa Lowe.
The piece, Moon Shadow, was produced by Sara Brooke Curtis and Leila Day.
Thanks to Audible for supporting Nocturne. Audible.com/Nocturne
Special thanks to Alex Espinoza, Jeremy Cherfas, Michael, Katie Burkart, Herrin Hopper, Heidi Anderson, Neva Moore, David Green, Jemma, Artorias Stark, Hugo Arenivas, Joseph Potter, Mary Jo Eyler, Camilla Meshiea, Marta Pelrine-Bacon, Tara,  Lauren Smith, Chris Glover, Edward Champion.
Music
Nocturne theme music by Kent Sparling
Also by Kent Sparling:
White Cloud Radio, Under New Manna
What's This Called, Unreleased
Episode Artwork: Robin Galante