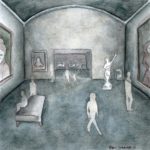 Lots of museums have regular evening hours or events, often lasting until 8 or 9pm. But I wonder – what do these worlds become in the wee hours, when the last visitor has heeded the call to leave, and the doors are locked? What transformations take place when no one is watching?
Subscribe: Apple Podcasts | Android | Stitcher | RSS | More
---
They're All Asleep Credits
Nocturne is produced by Vanessa Lowe.
The piece in this episode, also titled "Nocturne" was produced by Cathy Fitzgerald and Neville Edwards for the National Gallery, London, on behalf of Antenna Audio. Find them on Twitter at @cathyfitzg and @nevedwards101.
Special thanks to Daniel Linhart, Alex Espinoza, Jeremy Cherfas, Michael, Katie Burkart, Herrin Hopper, Heidi Anderson, Neva Moore, David Green, Jemma, Artorias Stark, Hugo Arenivas, Joseph Potter, Mary Jo Eyler, Camilla Meshiea, Marta Pelrine-Bacon, Tara,  Lauren Smith, Chris Glover, Edward Champion.
Music
Nocturne theme music by Kent Sparling
Also by Kent Sparling:
A Dark Sound of Hail, Unreleased
Episode Artwork: Robin Galante