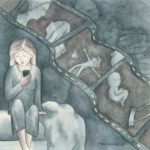 The Sleepless project is two things: It's a voicemail that people can call when they can't sleep, so they can talk about what's on their mind and hopefully get back to sleep. It's also an art project where the creator of the project makes short videos to accompany the voice messages. She came to the project through her own sleepless nights.
Subscribe: Apple Podcasts | Android | Stitcher | RSS | More
---
The Dream You Should Be Having Credits
Nocturne is produced by Vanessa Lowe.
Special thanks to Daniel Linhart, Alex Espinoza, Jeremy Cherfas, Michael, Katie Burkart, Herrin Hopper, Heidi Anderson, Neva Moore, David Green, Jemma, Artorias Stark, Hugo Arenivas, Joseph Potter, Mary Jo Eyler, Camilla Meshiea, Marta Pelrine-Bacon, Tara,  Lauren Smith, Chris Glover, Edward Champion.
The Sleepless project can be found here. Find it on Twitter @whywecantsleep. Leave a voicemail the next time you can't sleep at (917) 426-2642.The Prelinger Archives can be found here.
Music
Nocturne theme music by Kent Sparling
Also by Kent Sparling:
Mount Larsen; Comoe Mutables Second Drone
Kyron (aka JC Mendizbal):
Epiphenomenon
Synthiceechosnow
Unreleased
Chorale 1- Rolling Down, Vol. 1
Ross Garren and Andre LeFosse:
Ambient 140
End Credits
Below the Cold; Triple Action Formula
Harry James and His Orchestra:
Cherry
Clarence Williams Orchestra:
Squeeze Me
Episode Artwork: Robin Galante