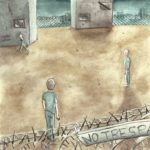 The built environment consists of structures that humans make – including spaces where people live, work and play. For the most part, these places are inhabited during the day. But at night, new aspects of the built environment are revealed. Some people are drawn to explore these spaces, not to vandalize or create mischief – just to see and to appreciate. But society has a name for that – it's called trespassing.
Subscribe: Apple Podcasts | Android | Stitcher | RSS | More
---
Interloper Credits
Nocturne is produced by Vanessa Lowe.
Special thanks to Daniel Linhart, Alex Espinoza, Jeremy Cherfas, Michael, Katie Burkart, Herrin Hopper, Heidi Anderson, Neva Moore, David Green, Jemma, Artorias Stark, Hugo Arenivas, Joseph Potter, Mary Jo Eyler, Camilla Meshiea, Marta Pelrine-Bacon, Tara,  Lauren Smith, Chris Glover, Edward Champion.
Music
Nocturne theme music by Kent Sparling
Also by Kent Sparling:
Comoe Mutables in A
Chamberpotpoor; ds-10-overload
After Tunguska; Crosshatching; Frenetic Cluster; Pollen Burst
Kyron (aka JC Mendizbal):
Darkly Curious; Glow Flies and Fire Worms; Suscipio
Clay Bears:
Prisoner in the Courtyard
Migraine
Neon Cowboy
Playhouse Mayhem; Talk to Astro; Street Selling; Leg Stretch; Post-game Blow-up; The Long Rhode
Crossing the Plains
Episode Artwork: Robin Galante